Spain is longer a giant petri dish of sexually transmitted diseases thanks to Brexit uncertainty.
View article >
The marathon runner dressed as Big Ben was forced to stop before the finish line and undertake four years of repairs.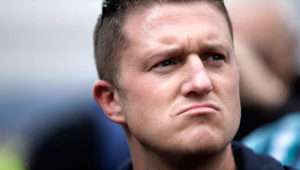 Philosopher and occasional prison inmate, Tommy Robinson, has declared that he will run to become an MEP on a platform of using blockchain and AI to adapt Enderburg's principles to a world where all stakeholders are connected in real time.
The Brexit Party, the latest vehicle for Nigel Farage's ego, has announced a number of unpleasant loudmouths or 'candidates for the European elections' who will spend the next month or so shouting about how England saved Europe in the war.