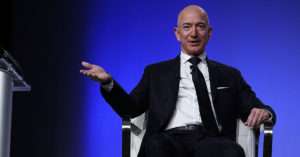 Today Amazon Boss Jeff Bezosslipped the surly bonds of Earth's taxation laws, becoming space's first tax exile.
Anonymous online racists, who choose to spew their vile and disgusting abuse with a series of made-up Twitter accounts using false and untraceable details are to be banned from attending football matches the Prime Minister has revealed.
After the government said it was time for social media companies to help stand up to online trolls and bullies, each platform has responded by sending Downing Street officials Priti Patel's phone number.