Theresa May, the Conservative MP for Maidenhead, has thrown her hat into the ring to become the next Prime Minister.
View article >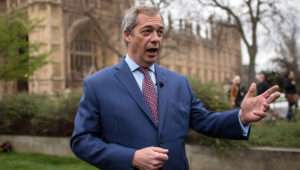 Nigel Farage, more full of himself than a Russian doll after the Brexit Party's success in the European elections, has insisted that he should be a key part of future Brexit negotiations with the EU despite the fact that as an MEP he never actually attends any meetings.
Much-loved BBC sitcom 'Gavin and Stacey' is to return this Christmas after a nine-year absence with the one-off episode showing the once loved-up couple getting divorced after finding themselves on opposing sides of the Brexit divide.
The Brexit Party, whose sole declared policy was to leave the EU without any sort of deal, has claimed that the result of the EU elections means they should be involved in the negotiations they think should not take place.