WAP is not linked to receiving the vaccine for coronavirus, Britain's Chief Medical Officer has today confirmed.
View article >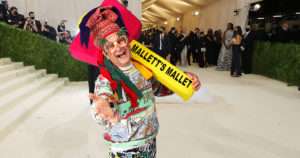 Timmy Mallett is the new king of fashion.
Rapper Nicki Minaj stunned at last night's Met Gala after appearing in a dress composed mainly of two large and swollen testicles.
The mysterious figure who appeared in the gardens of Button Manor at the end of the last episode of Ghosts has been revealed as gurning, prancing Buffoon Timothy Claypole, thereby ruining the whole thing.